Home sweet home
shorttalk: I know that pictures are waaay surreal-scary bigger than usual or oh so small can't see-trying out photobucket's service,and cant be bothered to upload the pics again.Will try to make it pproperly sized next time sorry!

Most people,including Bacon,thinks its very fun and all that looking for a new house.After a whole week of constant websurfing and driving around stupidly,I have decided that it's extremely stressfull and should be avoided at all costs.Especially if you are not sure what are you looking for and am open to everything.

It's not that hard actually.All we wanted was:


3 bedroomed
good sized garden
not too cramped
areas with good schools;just in case I decide to pop one out
Our budget started at 140 000 (sorry,my american laptop does not have the pound sign!).Seeing that our two bedroomed house will probably fetch around that, it will still be within our limits.We looked at second hand homes,those lived in for just a couple of years...and realized that the bedrooms are usually skewed..the master bedroom is a good sized room but the other two rooms are usually split by half.English architects are not the best in the world I would say. In fact,some of the designs are so ridicullious I dont know what to make of it.Most of the newer homes are all cramped together that your parking is usually miles away from your house.
And then last weekend we found our dream home.Introducting code name Plot 10:
Because Plot 10 is a brand new house (yes,the exact one in the above picture) we are allowed to 'trade in' our old home..or what they call part exchange.This will take away the stress of putting up the 'for sale' sign and hoping that someone would come along and fall in love with this house.It would also be cheaper,quicker and more convinient,something secod hand homes cannot offer us.
The only sad thing about this is that it is located in the boondocks.Yes,even more obscure than where I am now.At least I have really good bus routes into town and a myraid of shops around here including a proper sized shopping centre within 5 min drive radius.
Plot 10 only have once an hour buses into Leeds, and the only walking distance shop only sells news paper.You'll be hard pressed to find a house without a pub within walking distance in England - but with Plot 10,not a soul in sight.From bad to worse.And what's more, at 195,000, it will ensure that we are on bread and butter for ages.We can afford to buy this fourbedroomed palace,but not furnish it.Ironical n'est pas?But this is how it 'could' look like if we could afford to splurge in Ikea:
Bacon and Mommy Bacon at the downstairs lounge
Kitchen
Another view
Upstairs lounge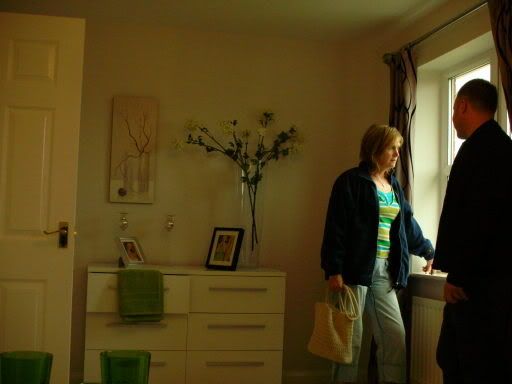 Bedrooms
Master bedroom
Loo
I love it how we can choose our carpets,color of walls,kitchen fittings and tiles.It just makes it more 'ours',as our current home,as cute and cosy as it is,is still remnnants of a bachelor pad - my toilet's so completely blue,I feel I'm drowning.But due to the price and the fact that we don't need four bedrooms,should we wait a little longer and look out for new developements?Prices of houses are always on the rise,all the time
I don't know what to do, and we have until friday to decide.